TEXT MARKETING – THE NEW FRONTIER – MOBILE MARKETING, NEW MARKETING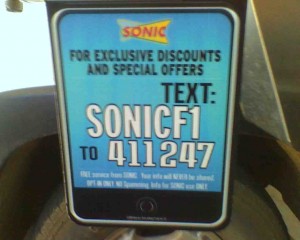 TEXT MARKETING – THE NEW FRONTIER  – MOBILE MARKETING, NEW MARKETING
You may have noticed, recently, the addition of  5 or 6 -digit 'short codes' plus  keywords ,  eg 'SONICF1'  (as pictured here) in print advertising.  Get ready to see more and more of this,   just as it was when you first started seeing email addresses and URLs some 10-15 years ago. Text marketing is destined to become the new   'email advertising,' only even more successful than  email ever was. Why?  Cell phones are the one thing that people are in contact with virtually 24 hours, ie you always have a captive audience and readership is currently averaging 97%! (Email is 1-7%)
HOW IT WORKS?  Simple.
1) The advertiser is assigned a 'short code' (usually five digits, e.g.' 12345') and a relevant keyword, e.g. 'COUPON2'
2)  LIST BUILDING:  We run a campaign for the advertiser in various media, inviting people interested in receiving FREE Coupons and relevant info to  'text message' said    keyword to the  aforementioned  'short code'
3)  COUPON TEXTING: Once a sufficient 'customer list'  has been 'captured' we begin a series   ' campaign'  of weekly (or any time frame) text messages. This includes sending a short text message, usually involving some discount offer or event and / or an actual coupon which the cell phone user simply uploads and shows the business clerk so as to receive the discount in question OR the text link can take  one to a website for  online ordering .
TEXT MARKETING – THE NEW FRONTIER  – MOBILE MARKETING, NEW MARKETING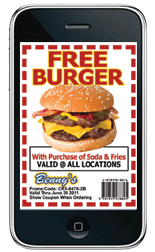 Several benefits of text messaging include
1) LOW COST   as little as $99/ month for 4+  text campaigns.
2) INSTANTANEOUS – Coupons are available at any time, only a click away. No searching for a paper coupon worrying about expiration, etc.
3) PAPERLESS, as noted above
4) TRANSFERABLE – Text messages are extremely viral so don't be surprised to see a lot of new faces.
5) ADVERTISING – supportive marketing tools to get the ad message out while continuing to build your client 'text' base, ongoing.
6) SUPPORT – Online  / Webinars
7) RESULTS!  No other ad medium can boast a 7-15% response – that's not just people who view the message but those who ACT ON IT! See attached testimonials
8) FREE  First Month! FIRST MONTH FREE – To show you how  well text messaging can work and how quickly we can bring you new business we are offering one month free. For an additional, nominal charge, we will provide ' extras' including table tents, signs, banners, etc. to help  build your client list and then continue to advertise the codes to bring more business on an ongping basis, per individual business needs.
NY TIMES GOOD ARTILCE OVERVIEW
Just call  888-4-A-COUPON (1-888-422-6876) ,  925-284-7168 or 925-788-3316 (cell) OR email burtkaufman@couponcountry.com to get pass codes and   view    handy  Webinar  Tutorials  and simple online marketing  platform tools.  You'll be highly impressed with Coupon Country's Mobile wing  and they will answer any and all of your questions!
[contact-form 1 "Contact form 1"]